What's the difference between Fiberskyn, Nuskyn and Skyndeep?
https://remo.com/experience/post/how-to-film-sound/
FIBERSKYN® provides a superb, authentic drum sound for maximum projection, lively overtones, and slap tones that are easy on your hands. It is the brightest sound of all three Remo film technologies. With superior construction, the low maintenance, weather resistant FIBERSKYN drumheads will enhance your drumming experience. In fact, they are the world's most widely recorded synthetic world percussion drumheads and are used by most top-professional drummers in the world. It produces ultimate volume with overtones drummers love, and controlled by muting with their hands.
LIVELY OVERTONES
EASY TO PLAY
BRIGHT MID-RANGE TONES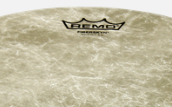 NUSKYN® sounds natural, warm, and full-bodied with enhanced low and mid-range frequencies, without any lingering high pitched overtones. NUSKYN® resembles the performance of an animal skin expanding the sound response spectrum dramatically. This means heavy hitting drummers that are accustomed to playing the animal skin will get that same response needing to pull the tone and volume out of the drum. "You know who you are. Manos de Piedra."
QUICK DECAY OVERTONES
SOUNDS LOOKS & FEELS LIKE ANIMAL SKIN
ENHANCED LOW AND MID-RANGE FREQUENCIES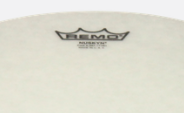 SKYNDEEP® is the graphic infusion of pigment into a polyester surface making it uniquely attractive while maintaining the integrity of a great sounding drumhead. SKYNDEEP is weather resistant, producing warm mid-range tones, increases sound, volume and projection similar to the FIBERSKYN without the added fiber layer. This is all around the friendliest drumhead film for hand drummers that want a traditional sound and lifesaving hand care. Playing Skyndeep, you'll notice your hand velocity is less than playing Nuskyn. This film technology is also very durable during transportation and from the occasional scrapes and bumps.
CONTROLLED OVERTONES
GRAPHIC IMAGE
INCREASED SOUND, VOLUME & PROJECTION
WARM MID-RANGE TONE