To determine the correct size timpani head, please refer to the Remo Timpani Drumhead Chart.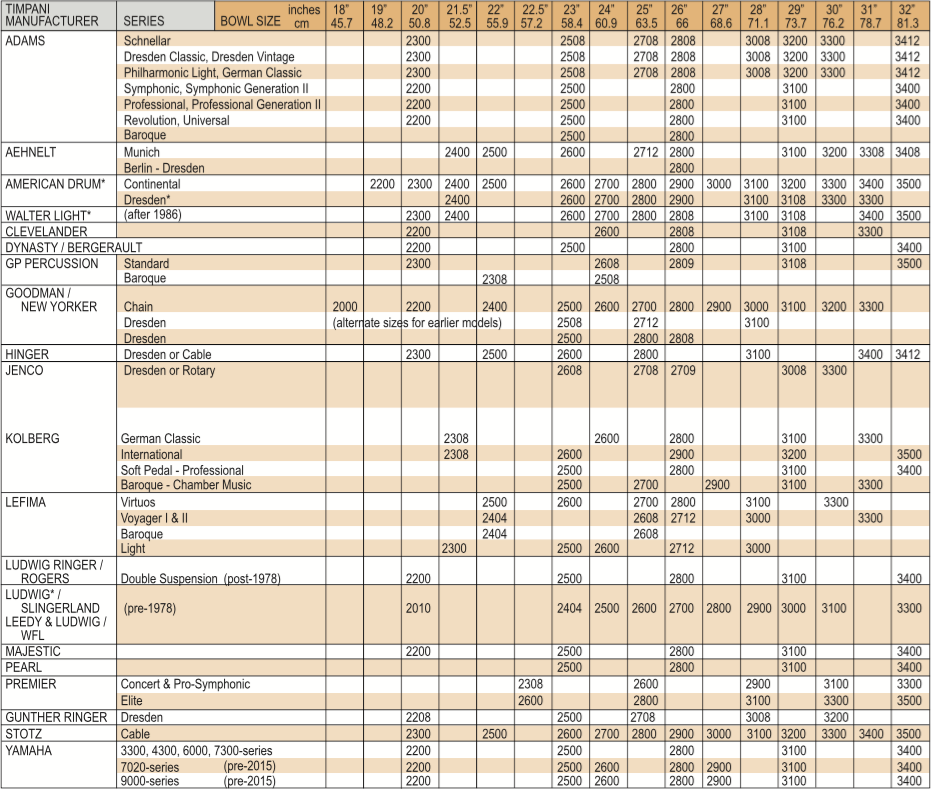 *Some Walter Light/American Drum and older Ludwig Timpani were manufactured with non-standard counter-hoops. For replacement Timpani heads, check the hoop of the original head for correct MODEL number or consult above chart. For custom sizes not listed above, please visit remo.com/support
You will need to know the make (manufacturer), model (name / #) and bowl diameter (inches or mm).
The part number nomenclature (i.e. RC-2800-LA) for Remo timpani heads consists of the prefix, size, and insert ring / film type.
Prefixes include:
(RC) = Renaissance Custom
(TC) = Custom
(ST) = Surface Tension
(TI) = Standard, no insert ring
Sizes are based on 1/16" increments.
2800 = 28 inches
2808 = 28-1/2" or 28-8/16"
Suffixes: The first character is the insert ring type:
R = Aluminum
L = Low-profile steel
S = High-profile steel
U = Ultra low-profile steel (only on Surface Tension timpani heads)
The second character is the film type: A = Hazy film
S = Clear film
U= Surface Tension film
For Example: RC-2800-LA = Renaissance Custom, 28" diameter, low-steel insert with Hazy film.