Due to non-standardized conga drum manufacturing, these are the most common situations you may experience when changing your drumhead.
Conga drums have been made uniquely for decades so there are many drum shapes, counter hoops, and head variations.
ANATOMY  OF A CONGA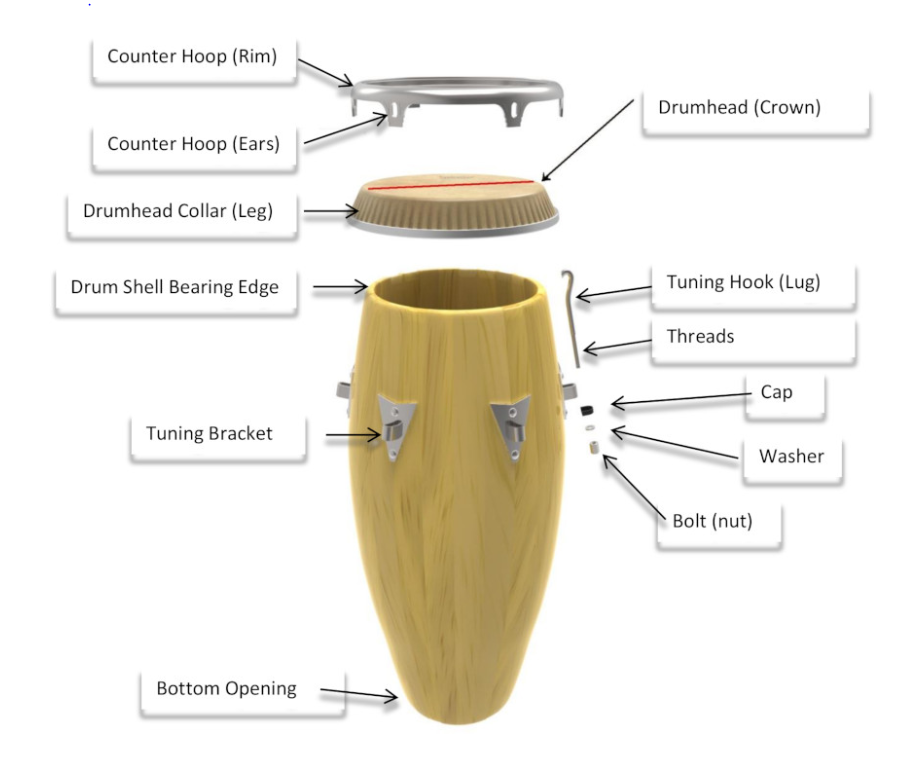 Because of these variations in size, collar heights, tuning hooks, and bracket locations you may find that your particular hoop-to-head dimensions are good but only to realize later that the hooks maybe too short or too long for tuning or that the collar height is too high or too low for playing comfort.
In addition, tuning hooks may have to be inserted into the counterhoop along with the head as an assembly before it is placed on the drumshell. In some cases the ID (Inner Dimension) of the counter hoop may come in contact with the pleated area of the drumhead collar below the bearing edge.
DRUM BEARING EDGE VARIATION
Also, the collar of the head may rock on the bearing edge or it may shift from side-to-side before it is tensioned. These two situations are generally not important as the high tension will shape the drumhead to the drum bearing edge and will center the head to the counter hoop.
UNKNOWN CONGA DRUM BRAND
Although the manufacture's stated catalog drum size is good to know it is not crucial to determine which drumhead crown size to use. The counter hoop measurements are the most important especially if the drum make and model are older versions or an unknown brand.
All of the models listed have been fit and performance tested by Remo product specialists and endorsed Remo Artists.
Remo's drumhead technology has become the best alternative to animal rawhide skins.
We believe you will agree with our top Artists and team members.
Please share the knowledge of rhythm and drum tech information with your fellow drummers and your social media. 
If you have any question please feel free to contact Remo Customer Support Team