Acceptable File Types
Adobe Illustrator ( EPS, AI or PDF ). *

Vector file is best

*
Adobe Photoshop ( PSD, PDF or JPG ) *

As close to 300dpi possible

*
* Note if your file has layers, please include editable layers *
Please provide a high resolution file, 300 dpi preferred, and as close to the actual size of the largest drumhead you are ordering.
*THE REMO CROWN WILL BE ADDED BY REMO's DESIGNER.


*** YOUR ARTWORK MUST NOT CONTAIN ANY OTHER COMPANY LOGOS, FOR EXAMPLE:       PEARL, YAMAHA, DW, LUDWIG, ETC.  WILL NOT BE ALLOWED AS A PART OF YOUR DESIGN AND YOUR REQUEST WILL BE REJECTED PER REMO'S LOGO POLICY. ***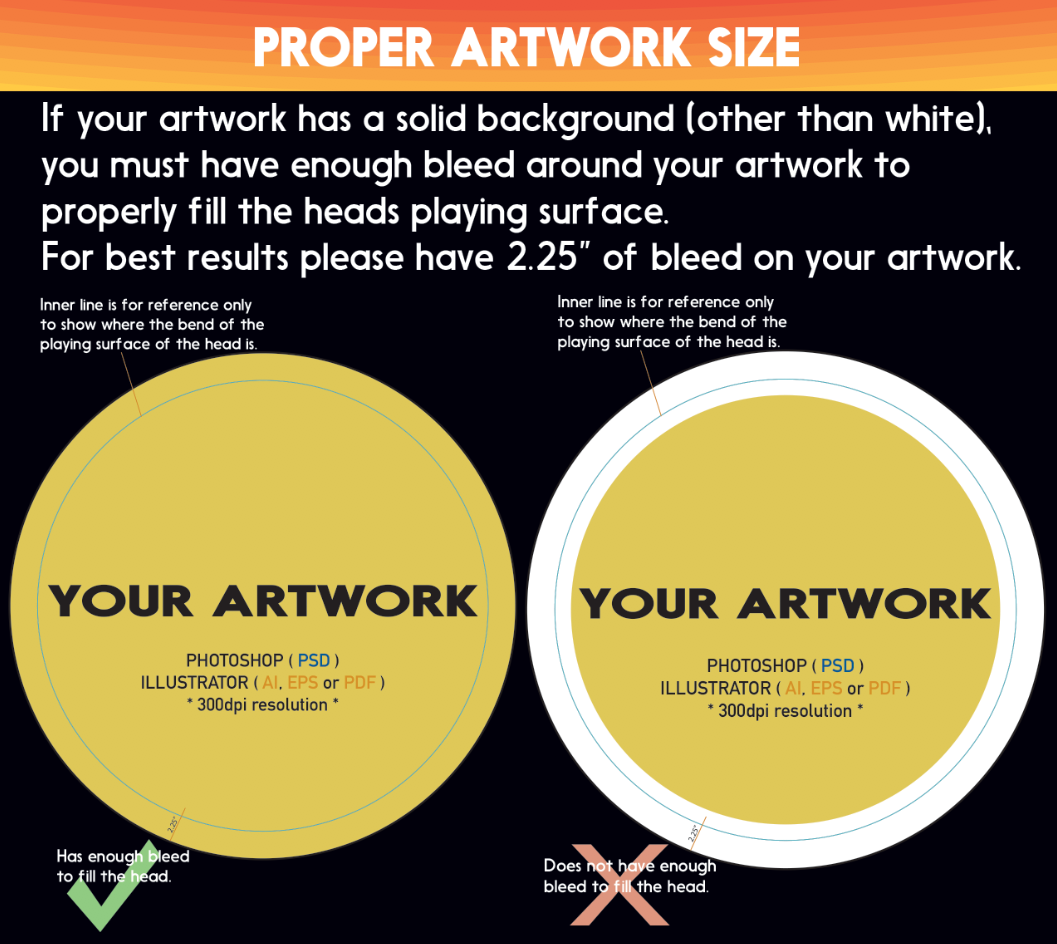 First, you will submit your design file via email to customgraphics@remo.com. The artwork will be reviewed by our designer to insure the quality of the image for your drumhead.
As long as your design has been submitted to the required specs, you will receive a mock up via email for your approval.
Once you have approved the mock up, you will receive that mock up in an order form that you can present to your music dealer and place an order for your Custom Remo Graphic Drumheads.
All custom drumheads must be paid for in advance and there are no cancellations or returns.

Your approved Custom Graphic Mock Up provided by REMO
Your Ticket# (Provided on the top of your Custom Mock Up)
Once the order is confirmed with the store, Remo will create part numbers and book your order.