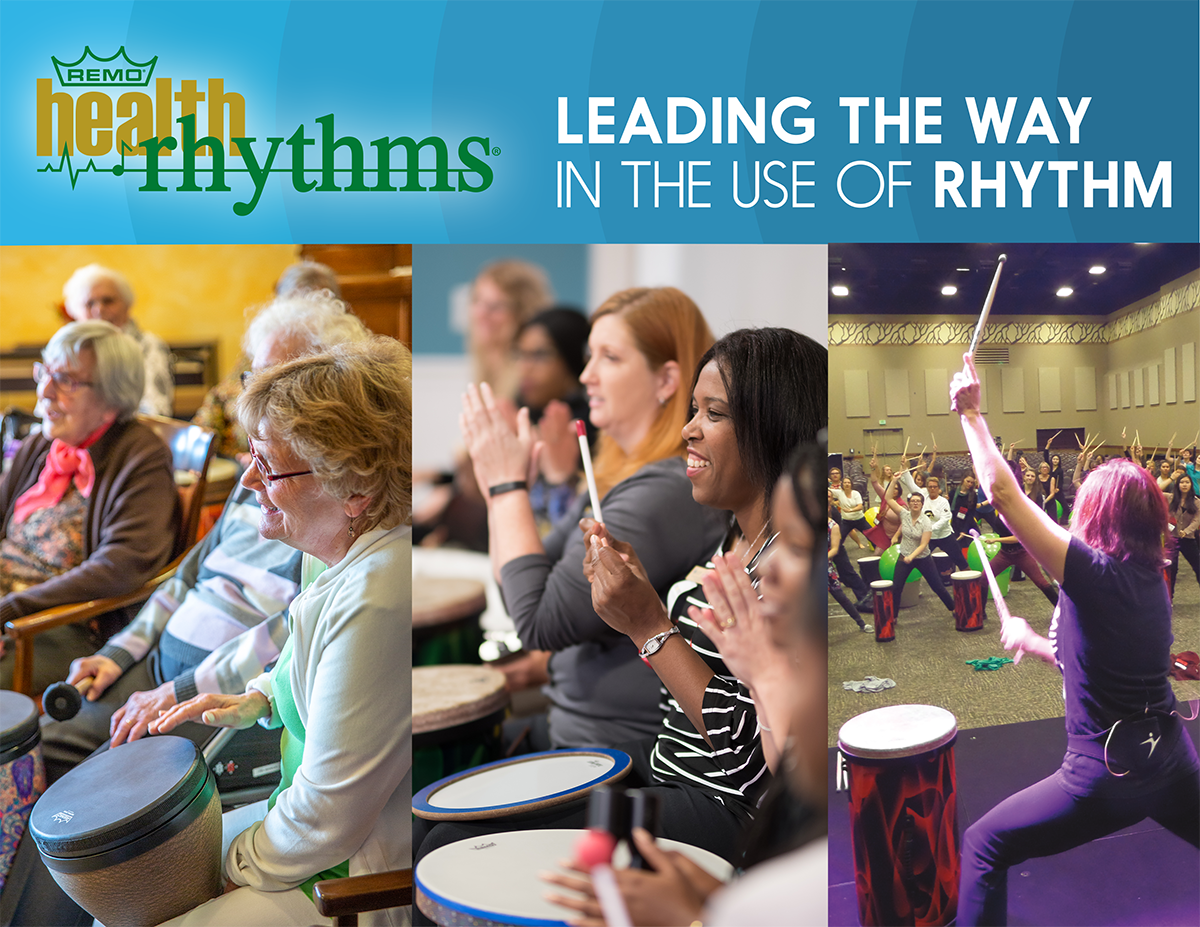 Learn 4 foundational strategies that will help you:
Understand the science of the mind-body connection in the context of music-making
Learn the HealthRHYTHMS protocol and how to use it as a rhythm prescription for participants to benefit from active music-making
Develop effective HealthRHYTHMS group empowerment drumming facilitation skills
Create and market integrated group drumming healthcare programs in your community
In the basic training, you will experience and learn how group empowerment drumming is not about performance, but a strategy for health. You will develop new knowledge and experience the health benefits of this approach to recreational music-making.
IN THE 2-DAY HEALTHRHYTHMS BASIC TRAINING
Experience group music making
Learn each step of the protocol
Explore ways to adapt the protocol to meet unique clients' needs
Practice facilitating each step of the protocol
Learn variations of each step of the protocol
Learn the art of facilitating HealthRHYTHMS
Learn more about HealthRHYTHMS and empowerment drumming research
Explore and discuss what you want to do with HealthRHYTHMS
"As a psychologist, I have witnessed the emergence of deep healing and personal expression in these groups in a way that surpasses what I have experienced providing individual verbal therapy." - Shari Geller, PhD
HEALTHRHYTHMS EFFECTIVENESS ACROSS VARIOUS APPLICATIONS HAS SHOWN:
Lower levels of cortisol (stress hormone) Increased Natural Killer (NK) Cell Activity Decrease in burnout
Improved mood state
Improved anger control
Improved school performance Decrease in self-harm
Decreased levels of depression Improved self-concept
Improvement on interpersonal problems Decrease in disorientation
WHO CAN TAKE THE TRAINING?
The program is open to music therapists, educators, counselors, physicians, musicians, social workers, nurses, and any other caring individuals
Our trainings are offered both in-person and online (PST/PDT) throughout the calendar year
TUITION INFO
ITEM PRICE
Basic Training In Person $549.00
Basic Training Online $499.00
processing fees not included
TRAINING OPPORTUNITIES
Visit our event page for trainings and registration: https://remo-hr.eventbrite.com
Contact: healthrhythms@remo.com
Phone: (661) 294 5639
Adolescent and Advanced trainings are not currently offered.
*HealthRhythms is NOT a certification program